Good to see that Neal Pollack has a job again, albeit with Slate, one of those also-ran web-zines. His blog was one of the first I read, in the flush years of 2003, before everybody had one.
Anyway, nobody I know back in Austin, nor any NBA pundit expected San Antonio to win the first two games of the Western Conference Finals with scores of 111-108 or 121-114, that's for damn sure. An enjoyable series to watch.


The Good Suns - How Phoenix saved the NBA. By Neal Pollack:

...
I began to idolize the Suns. These guys were cool. Steve Nash, the league's MVP, is a longhaired Canadian who spoke out against the war in Iraq and reads The Communist Manifesto. Quentin Richardson declared after a game-winning shot that it "was like Hamlet. It was a suspense thriller, and I killed them at the end." Amare Stoudemire, when asked to comment on a 22-point third quarter against the Sacramento Kings, said, "I've got a tendency to jump over some guys' heads and throw it down."

The coach, Mike D'Antoni, doesn't get out-cooled by his team. Though American by birth, he's arguably the greatest player in the history of Italian basketball. He's married to a model and hangs out with the Benetton and Versace families. TNT recently showed vintage footage of a shirtless D'Antoni, wearing the same crisp 'stache he still has today, holding aloft a trophy while a crowd of Italian revelers dumped champagne on his head. The Italians call him Arsenio Lupin, after a movie about a cat burglar. That's not a reference that means anything to me. I call him Coach Pornstache.

Coach Pornstache might be the greatest basketball innovator since Tex Winter drew up the triangle. He's certainly the first coach to bring the true European game to the United States. D'Antoni's philosophy revolves around ball movement, speed, defense in short spurts, and sense of humor. In one regular-season game, the Suns fell short after a furious comeback when reserve center Steven Hunter missed a dunk at the buzzer. Nash and Stoudemire came over, doubled up laughing, and dragged him back to the locker room. I've never seen players less affected by losing. If it's possible for a basketball team to be run by wit, then the Suns, with their intellectual point guard and their Continental coach, are that team.


I've got to find this photo of Coach Pornstache, I know I've seen it before. And
Arsene Lupin
sounds cool...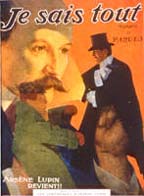 "Arsène Lupin" (Jean-Paul Salomé)