Interesting news. I've looked around in my photos for a shot of the Inland Steel building, but can't seem to find one yet.
Here's someone else's photo: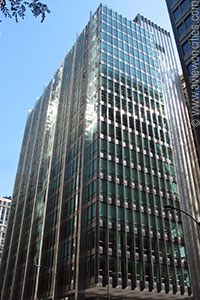 Better known as a designer of buildings than a buyer of them, celebrated architect Frank Gehry has made an unsolicited, top-dollar offer to acquire the landmark Inland Steel Building, one of the city's architectural gems and an icon of skyscraper design.

"I am a part of a group that is interested in making a bid for the building. We're in due diligence now," Gehry said in a brief statement, referring to the study period in which real estate investors conduct research before making a deal.
...Gehry, who has dabbled in real estate, is part of a small group of investors that includes Chicago real estate executive Harvey Camins. The exact amount of their bid could not be determined, but sources said it was substantially more than $200 a square foot, or roughly $50 million.
...
Yet for the famed Los Angeles-based architect, whose projects include the Jay Pritzker Pavilion in Millennium Park and the Guggenheim Museum in Spain, the deal may be more about acquiring a prominent example of Modernist design than about making a secure real estate investment.

Built in 1957, the stainless steel structure was designed by Skidmore Owings & Merrill LLP, which later shaped such massive strongholds as the Sears Tower and the John Hancock Center, structures that are better known to the public. But to architects and engineers the 19-story building at 30 W. Monroe St. is a true trophy.
According to Chicago's Famous Building, fifth edition,

The first tall building to go up in the Loop following the Great Depression, Inland Steel is among the crispest local demonstratives of late modernist style and planning. The office floors in the stainless steel-clad and blue-green glass rectangular tower on the west side of the site are free of columns, since vertical circulation and services are confined within attached fully metal-clad tower to the east. This interior openness is reinforced by the placement of the supporting columns outside the exterior wall, which also gives those piers a forceful vertical emphasis. Steel pilings, driven to bedrock eighty-five feet below grade were used here for the first time.
.
More here.
It isn't my most favored Chicago building, but I like it nonetheless.